The Awake Body
Enter the new year by waking up the senses, in your body and mind
Sonntag, 03. Mrz. 2019 / 16:00 bis 19:00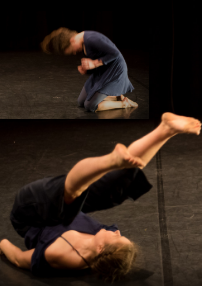 We start every evening with a rich and physical warm-up to fully wake up our body. Every body part shall be available for movement and creative expression.
Through improvisation we will dance intuitively, exploring topics as 'space', 'touch', 'movement qualities' and 'imagination'. We will use what we perceive as inspiration for our movements. This will allow us to connect to our creative minds and engage with our bodies in a conscious way.
To bring connection to ourselves and others, we will discover our own dance, as well as be working in pairs and with the group's awareness.
This workshop is for everyone (beginners as well as experienced dancers) who wants to move and dance in a playful and creative way together with others.
You can come one evening or on all four. The workshops will be led in English and German (depending on the group).
Warmly welcome!
Daten
Sonntag, 03. Mrz. 2019 / 16:00 bis 19:00
Kosten
CHF CHF 50.-/Anlass, CHF 150.- alle vier Anlässe Stud/AHV 20% Rabatt
Kursort
zoEspaces, Elsässerstrasse 34, 4056 Basel
Kursleitung
Kristina Ahlman (SE) and Tanja Klöti (CH), Tänzerinnen mit Abschluss in Tanz, Improvisation und Performance