The Art of Playing
Embodied Play-Fight
Sonntag, 09. Dez. 2018 / 10:00 bis 16:00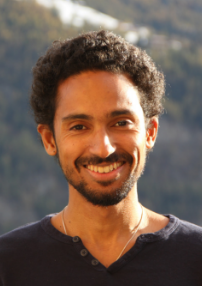 André Duarte started with Capoeira classes at the age of 4.  Growing up, he explored various martial arts. Interested in helping others using his background, he graduated as a Physical Education teacher and trained as a Pilates instructor.
During his whole formal education he kept his connection with African-Brazilian embodiment celebrations and ended up bringing  his research to the academy.
Due to his deep experience and commitment to more and other than the fighting and competitive aspect, he created The Art of Playing. There he creates a playground for mutual support in partner work that leads to celebration. André includes the  importance of emotional and mindful investigation as  important aspects of embodiment. He met and tought many people in both Europe and Latin America.
Daten
Sonntag, 09. Dez. 2018 / 10:00 bis 16:00
Kosten
CHF CHF 150.- (inkl. MwSt), Stud/AHV 10% Rabatt
Kursort
zoEspaces, Elsässerstrasse 34, 4056 Basel
Kursleitung
André Duarte, Brazil, Brazilian embodiment coach