Authentic Movement and Dynamic Compassion
Dynamic Compassion through Movement and Authenticity
Samstag, 09. Feb. 2019 / 10:00 bis 17:00
Sonntag, 10. Feb. 2019 / 09:00 bis 16:00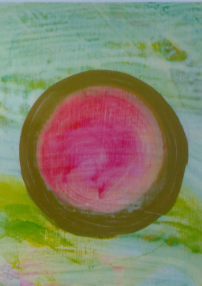 Through sensitive tracking of movements, impulses, sensations, images, memories, thoughts or feelings which both mover and witness practice, Authentic Movement  opens  a pathway to discover the healing power of the Self as it seeks expression through the cellular intelligence of the body ( Stromsted, 2014). At the same time it allows the process of 'being with' another person with openness, quite attention and receptivity.
This is highly supportive to meet the present with openness, to recognize the way in which individuals are both powerful and vulnerable by gaining one's own differentiated sense of self. Self-knowing awareness, the capacity to resonate with another and the capacity to make empathic contact for others, will contribute to a dynamic compassionate inner witnessing.
It is also applicable to those without professional intention who want to deepen the body's way working towards an embodied consciousness.   
Georgia Aroni  is an  BTD accredited  Dance / Movement Therapist, a trainer, a teaching  therapist,   a  teacher in  Authentic Movement, based in Germany. She holds degrees in Preschool Education and Greek Civilization from the Greek Open University. Since 1996 she has worked extensively in the fields of therapy and education with different populations such as dependent individuals, people with chronic mental diseases and people with psychosomatic disorders. She facilitates workshops and seminars for health professionals in Europe.  Her areas of practice include: Dance / Movement Therapy oriented to trauma and Authentic Movement as an embodied mindfulness practice. She is currently on the training  of  TCTSY- Trauma Sensitive Yoga.  www.aronig.wordpress.com
Daten
Samstag, 09. Feb. 2019 / 10:00 bis 17:00
Sonntag, 10. Feb. 2019 / 09:00 bis 16:00
Kosten
Kursort
zoEspaces, Elsässerstrasse 34, 4056 Basel
Kursleitung
Georgia Aroni, Accredited Dance / Movement Therapist, Authentic Movement Teacher